The e-ENGINEERING'2021 Conference will take place at the Petra Marriott Hotel, in Petra, near the ancient archaeological site of Petra, a UNESCO World Heritage Site, in Jordan.
More specific information about the conference hotel will be available soon.
Petra
Petra was the rock-cut capital city of the Nabateans, an Arab people who inhabited northern Arabia and the Southern Levant from the 4th century BC until being conquered by Trajan in 106 AD, who annexed it to the Roman Empire.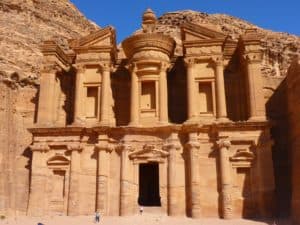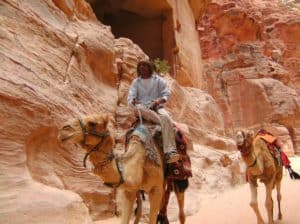 Situated between the Red Sea and the Dead Sea, Petra became during Hellenistic and Roman times a major caravan center for the incense of Arabia, the silks of China and the spices of India, a crossroads between Arabia, Egypt and Syria-Phoenicia. Petra is half-built, half-carved into the rock, and is surrounded by mountains riddled with passages and gorges. An ingenious water management system allowed extensive settlement of an essentially arid area during the Nabataean, Roman, and Byzantine periods. It is one of the world's richest and largest archaeological sites set in a dominating red sandstone landscape (from the UNESCO site).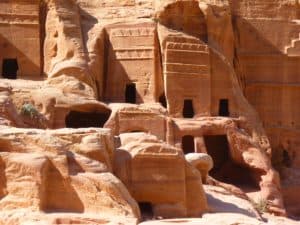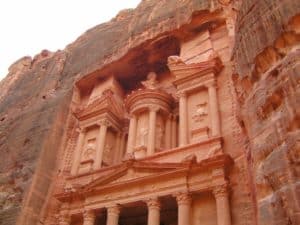 Petra City
With more than 70 hotels and many tourist restaurants, Petra City (pop. 18 000) is located in the Ma'an Governorate in southern Jordan, adjacent to the archaeological site of Petra.
The town is about 250 kilometers (160 mi) from Amman, Jordan's capital, and 100 kilometers (60 mi) north of the port city of Aqaba.
Getting There & Away
The new Queen Alia International Airport (QAIA) is Jordan's main airport, with direct flights to many world destinations. The airport is located 35 kilometers south of Jordan's capital, Amman.
Airport Express Bus runs to/from Amman every 30 minutes from 6.30am to 5pm and hourly from 5pm to midnight.
From Amman to Petra, the JETT Bus, a scheduled air-conditioned coach that can be booked in advance online, departs at 6.30am and reaches Petra in around four hours. From Petra to Amman the JETT Bus departs 5.00pm. The trip takes around four hours. For more information visit The JETT Bus website.
Regular minibuses travel daily between Amman's South Bus Station (Wihdat) and Petra, via the Desert Highway. These buses leave Amman and Petra when full every hour or so. From Amman services run from 6am until noon. From Petra services run from 6am until around 4pm. Schedules change frequently but hotels in Petra can give up-to-date advice.
It is possible to take a taxi from Amman Queen Alia Airport to Petra. A standard trip will cost around 85JD (110€) one way.
Another possibility is to rent a car. International car rental chains based at Queen Alia International Airport are open 24-hours a day. Expect to pay around 50€/day per day for a new model with air conditioning and insurance. In Jordan international driving licenses are accepted but to have an International Driving Permit is advisable. The permit includes an Arabic translation which may be useful, particularly if you are pulled over by authorities.
Visas to Jordan
All visitors are required to hold a Visa. For most nationalities, a Visa may be obtained upon arrival at the international airports and most of Jordan's land borders for 40 JOD.
Check the nationalities list for Visa requirements at Visas to Jordan.
Buying a Jordan Pass online before entering gives free access to many sites in Jordan, including Petra, and waives the visa fee.
Disclaimer: All information contained in this section is subject to change by the concerned authorities without prior notice. For further information, please contact the Jordanian Diplomatic Mission at your country of residence.
Useful Websites